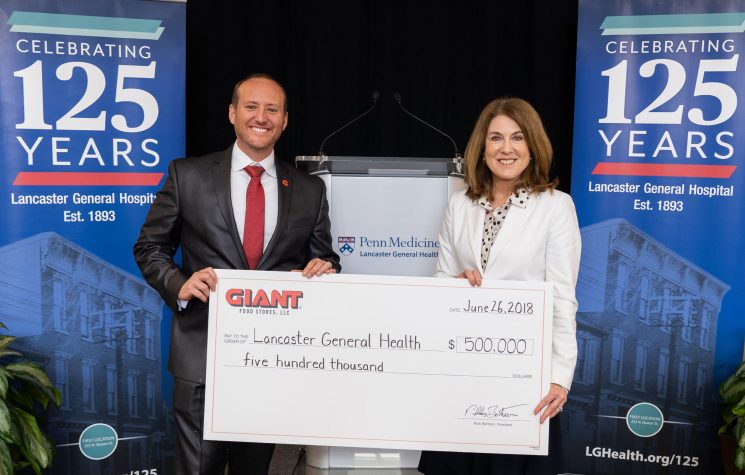 LG Health and GIANT Food Stores Announce Pediatric Gift
June 26 – Lancaster, PA – Penn Medicine Lancaster General Health and GIANT Food Stores have announced a $500,000 gift to the new Pediatric Inpatient Center at Lancaster General Hospital.
LG Health President and CEO Jan Bergen and GIANT Food Stores CEO Nicholas Bertram announced the gift at a June 26 event at the hospital.
"We deeply appreciate this generous gift, which will greatly enhance our ability to care for children from Lancaster County and throughout the region," Bergen said. "LG Health is grateful to count GIANT Food Stores as a partner in our mission of caring for our community."
The Pediatric Inpatient Center, which will be located in the hospital's new Frederick Building, will offer state-of-the-art design, technology and programs in a child- and family-centered environment. Construction will begin this fall, with a planned summer 2019 opening. "Lancaster General Hospital marks its 125th anniversary this year, and almost from the very beginning, caring for children has been part of our mission," Bergen said. "This tradition will now continue well into the future in our new Frederick Building." Each year LG Health treats more than 1,500 children as inpatients and 19,000 children in the Emergency Department. The new Pediatric Inpatient Center will be more than double the size of the current pediatrics unit. New programs will include certified pediatric health-care professionals to support children and families throughout their hospital stay.
"We congratulate the entire team at Lancaster General Health for their vision and their commitment to bringing even more world-class care to the families of greater Lancaster," said Nicholas Bertram, GIANT President. "Since our founding nearly a century ago, engagement in the local communities we serve has been a strong part of our culture, and we are humbled and honored to support Lancaster General Health."