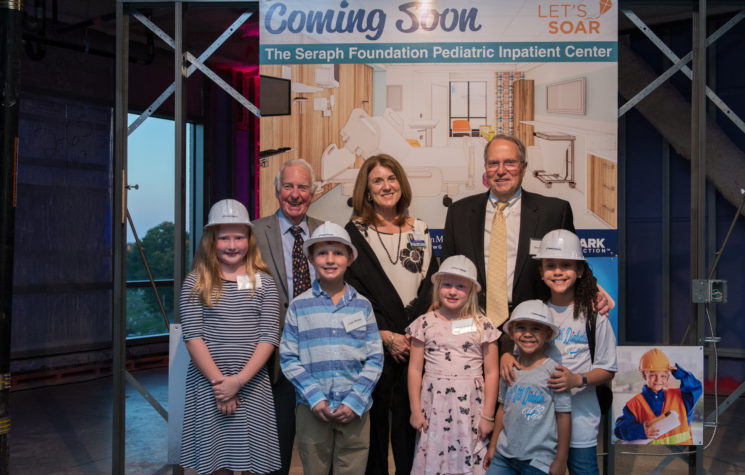 Lancaster General Health Announces $9 Million Pediatric Fundraising Campaign
Oct. 4 – Lancaster, PA – Penn Medicine Lancaster General Health has launched the public phase of a $9 million fundraising campaign to create The Seraph Foundation Pediatric Inpatient Center at Lancaster General Hospital. To date, $6.9 million has been raised.
"The children in our community deserve the highest level of care," said Jan Bergen, President and CEO of LG Health. "We are partnering with the community to help us create a brand new Pediatric Inpatient Center at Lancaster General Hospital that will offer state-of-the-art design, technology and programs in a child- and family-centered environment."
The new Pediatric Inpatient Center, expected to open in late summer 2019, will enable LGH to provide higher-level medical care closer to home for about 300 additional families each year. A larger private-room design will provide space for family members to stay with patients and participate in family-centered rounding with the care team. An expanded family lounge will offer 24-hour access to amenities including shower and laundry facilities, a kitchenette and refreshments. Other features include workspaces with technology to keep parents and teens connected, an interactive play area for siblings and patients, and a meditation room.
In addition to enhanced facilities, a new Child Life program will help children and families understand and cope with illness, treatment, and hospitalization. Child Life specialists will help prepare children for medical procedures, offer distractions, lend emotional support and provide therapeutic play experiences. With over 20,500 pediatric visits to the LGH Emergency Department and current pediatric unit each year, the Child Life specialists will available in both locations to support children and families.
"The Child Life program really focuses on the importance of reducing stress for children and families," said Michelle Schori, Executive Director of Women & Children's Health. "A hospital stay can be an enormous stress on both the patient and caregivers. This program helps provide a healing environment so time in the hospital is the best experience possible."
LG Health has an alliance with the Children's Hospital of Philadelphia, bringing advanced pediatric care to the Lancaster community. Subspecialists from CHOP and LG Health pediatricians work side-by-side at LGH, Women & Babies Hospital and the Suburban Pavilion to deliver unmatched medical excellence in a variety of specialties. The new Pediatric Inpatient Center, collaborating in care with CHOP, helps ensure that families can continue to stay close to home when receiving care.
LG Health staff, donors, volunteers and grateful patient families kicked off the campaign Wednesday evening. To learn more about the campaign, or to donate, visit soar.lghealth.org.
PHOTO: Dr. Clark McSparren, campaign co-chair, Jan Bergen, LG Health president and CEO, Hank Spire, campaign co-chair kick off the campaign at Lancaster General Hospital on Wednesday, Oct. 3.